Regular price
Sale price
$16.95 USD
Unit price
per
Sale
Sold out
Share
How a silent autistic child demonstrated his intelligence and creativity with favorite toys and found His voice.
There was a cast-off toy with no name in our house. There was no manufacturer's tag. This one had come home years before in a party grab-bag and spent the time since in a dark closet at the bottom of a dusty box. We weren't sure where it came from or what it was. Nobody ever played with it…until Josiah came along. For some reason, Josiah, our silent and solitary little guy, latched on to this little green friend. He named it Skacky, just because. Then he proceeded to give Skacky a community, adventures, identity and meaning. A story.

What was special about this developing world is that our quiet little child had been a mystery to us. People noticed his differences. They wondered about his future, and so did we. Autism. We were daunted by all that we didn't know about our son.
    
Maybe Josiah knew that we're all a little like Skacky. At first we don't know where we came from either. At times we're not sure of our purpose or destination. We don't yet know that we were lovingly and purposely fashioned. We don't have a name until we're given one. Yet we've all got a story someone else can relate to.

This little cast-off was chosen by a son. A little boy chose to love a little stuffed animal and make it live. He chose it to be in relationship to him, and to the others who were also chosen. Like any child, Josiah gave them all names, personalities, and stories. With every new act of this developing play the curtain rose on our son's loving heart and creative mind.

The characters and props for this production, as they lived together and related, sometimes got a little messy. His room may have looked like a disaster, but there was an unfolding order. Vivid imagination created a breadth of characters, with roles, and purpose, and function—expressed in wry humor, caring, tenderness, and love. They would argue and make up. They would win and they would fail. They would be smart and they would be foolish. They would be mysterious and even seem dangerous.

Some of his cast would have unique interests and skills that the rest would enjoy! One would have interest in poetry.
One would like to sing. One spoke French. One would be electric and try not to hurt you. One of his characters was a little loud.

Whether small, tall, fast, or slow, smart, or silly, dull or exciting, they would all still belong. They'd be friends.

Was this a reflection of the world Josiah perceived that he himself lived in, or was it an imaginative ideal?
Whatever it was, it was like a bright childish coloring of a shining sun, blooming flowers, and smiling people. It made us smile too.

Sometimes Jo's characters would be negative and fight. Some would feel left out or neglected, but he made his heroes of "tough stuff" and they would, quite literally "bounce back"!

Skacky had special privilege among its friends—like getting to go places and do things with Josiah that no one else did!
They carried on full conversations in ways Josiah never did in the outside world.

It's as though little Jo understood that in this life we can be taken on journeys we didn't choose. Our experiences can challenge us and we may feel uncomfortable. We can feel that our little world and it's problems are too big.
But if we choose to enjoy this thrill ride, we can be taken to high places that make us see, looking back, that our problems were not so big after all!
There are those who never had the privileges we have known.

Skacky, and others of Josiah's toys were chosen to live, and move, and risk, and romp, and play, and pick up some wear-and-tear along the way.

If Skacky had not been chosen and loved, it would have likely been thrown away. But Skacky lived and moved and spoke and belonged and related. Skacky would sometimes sing a joyous song. This could only happen because of love. There would be no voice to sing were it not given.

View full details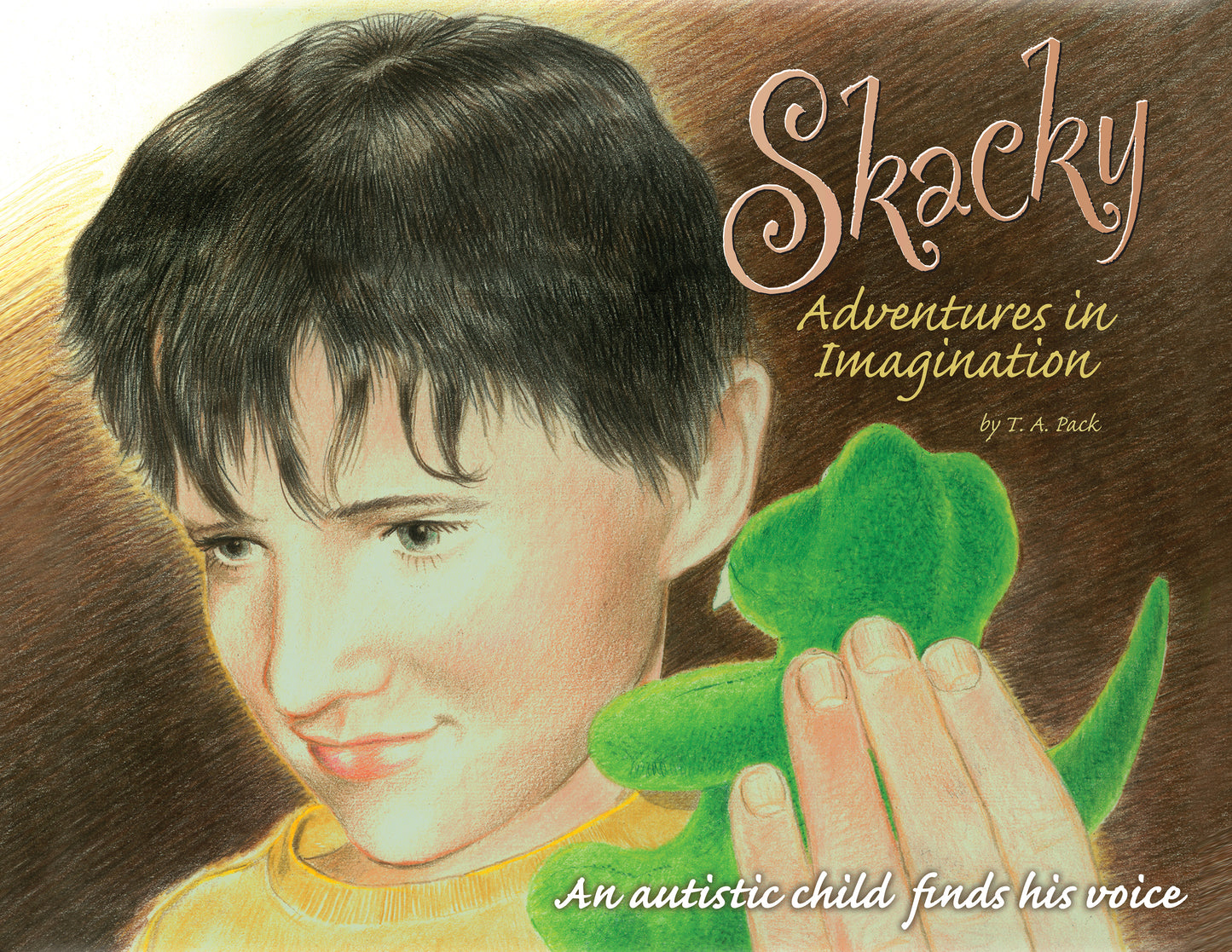 Shipping

Your order will be shipped flat via USPS Book Rate.